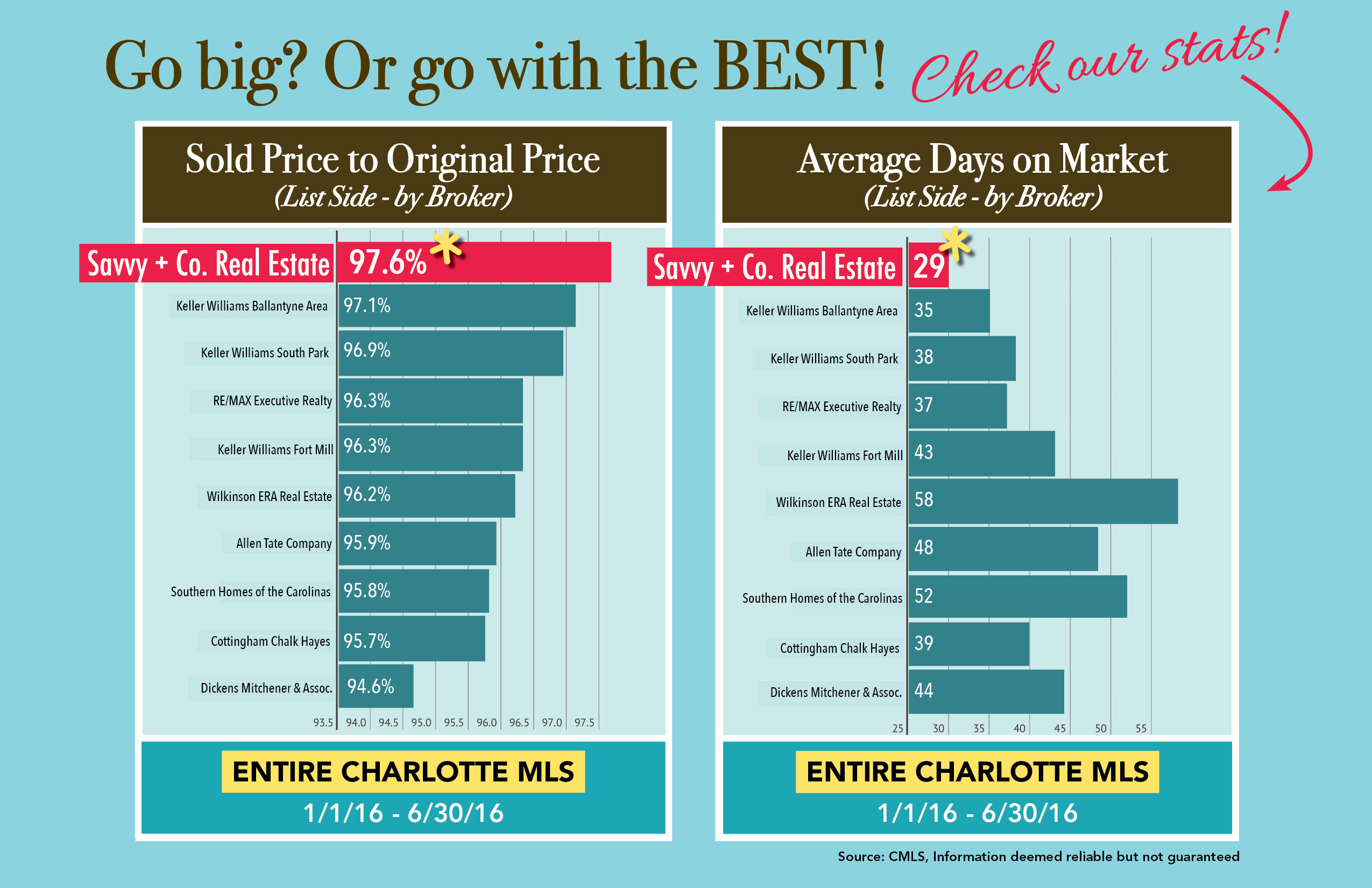 As a South Charlotte Real Estate expert, I monitor the buying and selling trends in your area. Please fill out the form below to receive a complimentary "Comparative Market Analysis" on your home.
There are absolutely no strings attached. Why? I want the chance to show you my expertise as a top Charlotte area real estate agent.
Drop me a line and I'll get back to you quickly!
Notice: JavaScript is required for this content.

var formDisplay = 1;
// Maybe initialize nfForms object
var nfForms = nfForms || [];
// Build Form Data
var form = [];
form.id = '3';
form.settings = {"title":"Contact Form","key":"","created_at":"2016-04-18 14:02:48″,"objectType":"Form Setting","editActive":"","show_title":"1″,"clear_complete":"1″,"hide_complete":"1″,"currency":"usd","wrapper_class":"","element_class":"","add_submit":"0″,"logged_in":"","not_logged_in_msg":"","sub_limit_number":null,"sub_limit_msg":"","fieldContentsData":[{"label":"Name","key":"name","parent_id":3,"type":"textbox","created_at":"2016-04-18 14:02:48″,"objectType":"Field","objectDomain":"fields","editActive":false,"label_pos":"above","required":1,"placeholder":"","default":"","wrapper_class":"","element_class":"","input_limit":"","input_limit_type":"characters","input_limit_message":"Character(s) left","manual_key":"","disable_input":"","admin_label":"","help_text":"","desc_text":"","desc_pos":"","disable_browser_autocomplete":"","mask":"","custom_mask":"","order":1,"id":12,"container_class":"","input_limit_msg":"Character(s) left"},{"label":"Email","key":"email","parent_id":3,"type":"email","created_at":"2016-04-18 14:02:48″,"objectType":"Field","objectDomain":"fields","editActive":false,"label_pos":"above","required":1,"default":"","placeholder":"","wrapper_class":"","element_class":"","admin_label":"","help_text":"","desc_text":"","desc_pos":"","order":2,"id":13,"container_class":""},{"id":16,"label":"Phone","type":"phone","objectType":"Field","objectDomain":"fields","editActive":false,"key":"phone","label_pos":"default","required":false,"placeholder":"","default":"","container_class":"","element_class":"","input_limit":"","input_limit_type":"characters","input_limit_msg":"Character(s) left","manual_key":false,"disable_input":"","admin_label":"","help_text":"","desc_text":"","disable_browser_autocomplete":"","mask":"","custom_mask":"","order":3},{"id":17,"label":"Address","type":"address","objectType":"Field","objectDomain":"fields","editActive":false,"key":"address","label_pos":"default","required":false,"placeholder":"","default":"","container_class":"","element_class":"","input_limit":"","input_limit_type":"characters","input_limit_msg":"Character(s) left","manual_key":false,"disable_input":"","admin_label":"","help_text":"","desc_text":"","disable_browser_autocomplete":"","mask":"","custom_mask":"","order":4},{"label":"Submit","key":"submit","parent_id":3,"type":"submit","created_at":"2016-04-18 14:02:49″,"objectType":"Field","objectDomain":"fields","editActive":false,"processing_label":"Processing","wrapper_class":"","element_class":"","order":5,"id":15,"container_class":""}],"default_label_pos":"above","calculations":[],"beforeForm":"","beforeFields":"","afterFields":"","afterForm":""};
form.fields = [{"label":"Name","key":"name","parent_id":3,"type":"textbox","created_at":"2016-04-18 14:02:48″,"objectType":"Field","objectDomain":"fields","editActive":"","label_pos":"above","required":1,"placeholder":"","default":"","wrapper_class":"","element_class":"","input_limit":"","input_limit_type":"characters","input_limit_message":"Character(s) left","manual_key":"","disable_input":"","admin_label":"","help_text":"","desc_text":"","desc_pos":"","disable_browser_autocomplete":"","mask":"","custom_mask":"","order":1,"container_class":"","input_limit_msg":"Character(s) left","id":12,"beforeField":"","afterField":"","parentType":"textbox","element_templates":["textbox","input"],"old_classname":"","wrap_template":"wrap"},{"label":"Email","key":"email","parent_id":3,"type":"email","created_at":"2016-04-18 14:02:48″,"objectType":"Field","objectDomain":"fields","editActive":"","label_pos":"above","required":1,"default":"","placeholder":"","wrapper_class":"","element_class":"","admin_label":"","help_text":"","desc_text":"","desc_pos":"","order":2,"container_class":"","id":13,"beforeField":"","afterField":"","parentType":"email","element_templates":["email","input"],"old_classname":"","wrap_template":"wrap"},{"label":"Phone","key":"phone","parent_id":3,"type":"phone","created_at":"2016-08-12 07:07:18″,"objectType":"Field","objectDomain":"fields","editActive":"","label_pos":"above","required":"","placeholder":"","default":"","container_class":"","element_class":"","input_limit":"","input_limit_type":"characters","input_limit_msg":"Character(s) left","manual_key":"","disable_input":"","admin_label":"","help_text":"","desc_text":"","disable_browser_autocomplete":"","mask":"","custom_mask":"","order":3,"id":16,"beforeField":"","afterField":"","parentType":"textbox","element_templates":["tel","textbox","input"],"old_classname":"","wrap_template":"wrap"},{"label":"Address","key":"address","parent_id":3,"type":"address","created_at":"2016-08-12 07:07:18″,"objectType":"Field","objectDomain":"fields","editActive":"","label_pos":"above","required":"","placeholder":"","default":"","container_class":"","element_class":"","input_limit":"","input_limit_type":"characters","input_limit_msg":"Character(s) left","manual_key":"","disable_input":"","admin_label":"","help_text":"","desc_text":"","disable_browser_autocomplete":"","mask":"","custom_mask":"","order":4,"id":17,"beforeField":"","afterField":"","parentType":"address","element_templates":["address","textbox","input"],"old_classname":"","wrap_template":"wrap"},{"label":"Submit","key":"submit","parent_id":3,"type":"submit","created_at":"2016-04-18 14:02:49″,"objectType":"Field","objectDomain":"fields","editActive":"","processing_label":"Processing","wrapper_class":"","element_class":"","order":5,"container_class":"","id":15,"beforeField":"","afterField":"","label_pos":"above","parentType":"textbox","element_templates":["submit","button","input"],"old_classname":"","wrap_template":"wrap-no-label"}];
// Add Form Data to nfForms object
nfForms.push( form );